Dashboard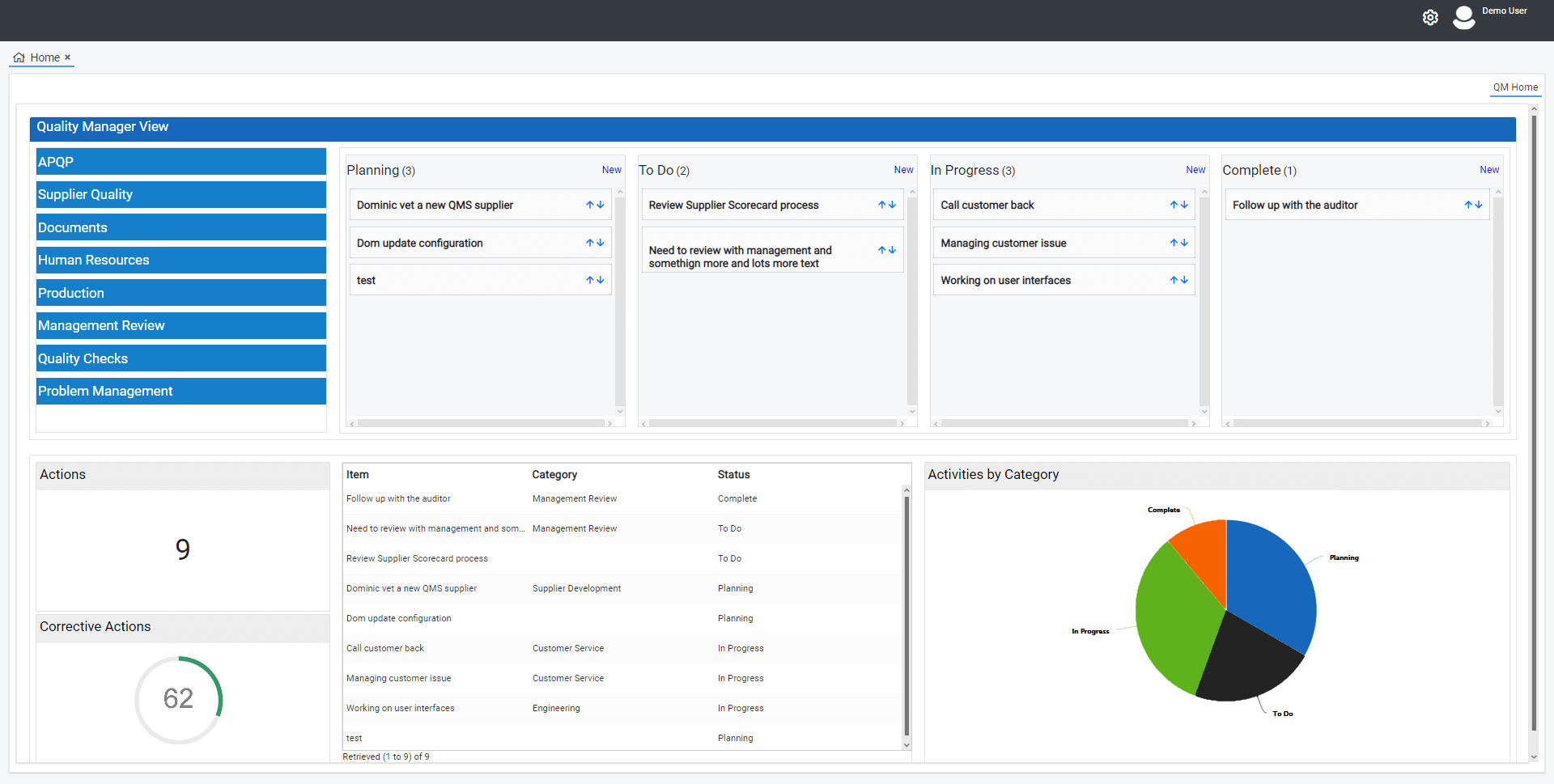 Scope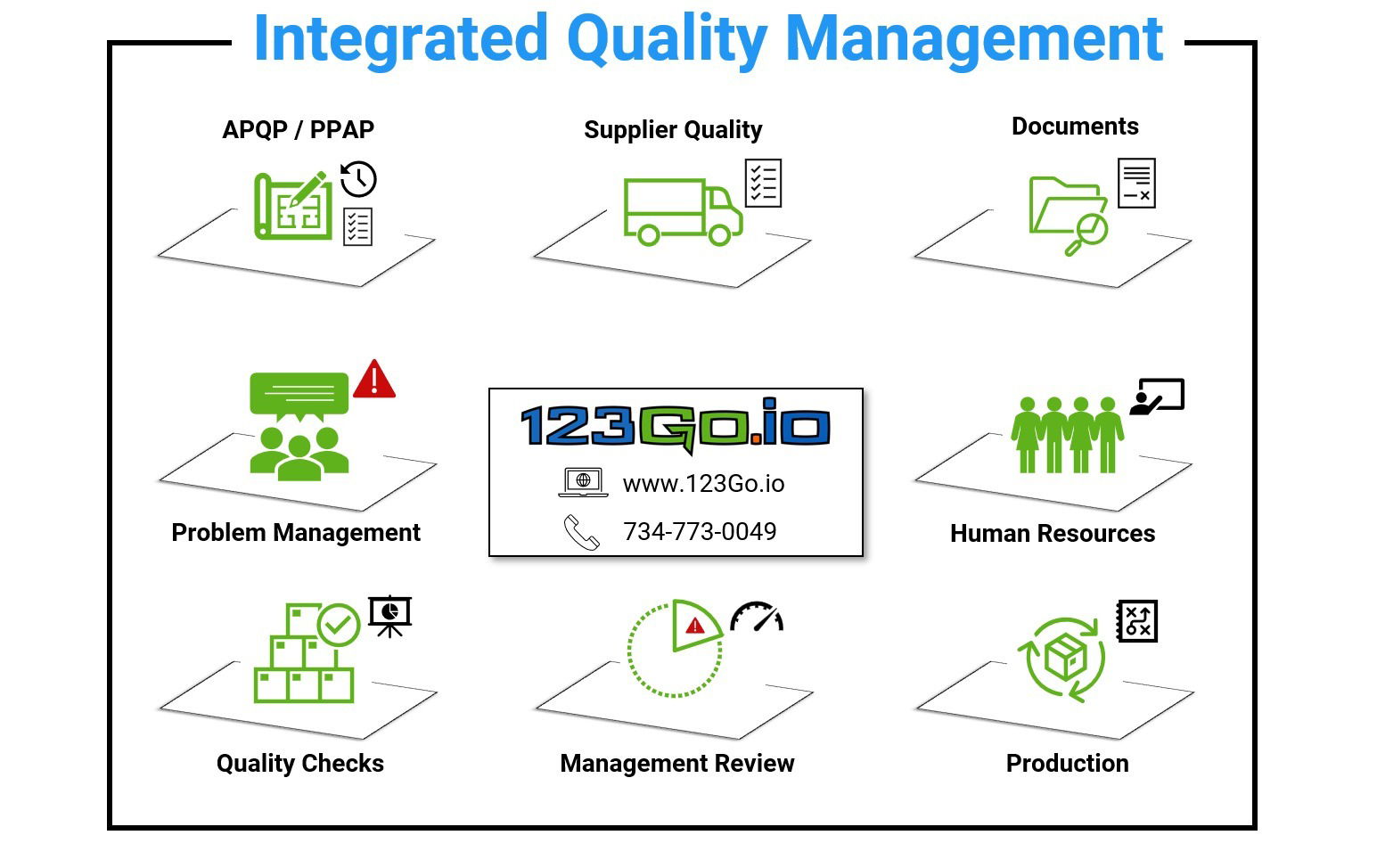 A rapidly deploy able and easy to use Quality Management solution built on an incredibly robust and flexible platform. Provides the functionality that small and medium sized manufacturers need to track and improve their ability to manage quality of their products. From Sales and APQP to Production and Customer Service. This application is rapidly deploy able and will scale from one to multiple locations. Keep all your compliance records for IATF-16949:2016, ISO-9001:2015, AS-9100D, ISO-13485:2016 in one place.
Scope
APQP / PPAP

Templates:

Create and leverage best practice and customer templates to execute projects

Projects

New product launches, engineering change projects, production line moving projects and more
Track key deliverables and timelines centrally using projects and tasks
Use gates to reduce waste and improve focus

Visualization

Gain insight and clarity on your projects using gantt charts and metrics

PPAP management

Track key PPAP dates and milestones

Supplier Quality

Supplier on-boarding checklists and activities tracking
Supplier scorecard reports

PPM/PPMO
Responsiveness
Key action completion

Incoming Inspections

Simple checklists
Characteristic checks

Supplier Collaboration

Integrate and collaborate with suppliers while working on corrective actions, PPAPs and more

Documents

Document File Repository
Change Management

Implementation Plans
Alerts and Notifications

Approvals

Human Resources

Skills library

Identify key skills and abilities that you want to track for the workforce

Employee training records

Maintain visibility over skills in the workforce and cross-training

Employee feedback

Keep track of suggestions and innovative ideas from employees with a simple feedback workflow

Production

Machine maintenance

Reactive and Preventive Maintenance work order tracking
Spare parts inventories
Machine configuration and program library

Gauge calibrations

Track calibration schedules and results
Generate gauge labels

Production operator interface
Incident and issue reporting

Safety near-misses
Environmental concerns
Part, process or material defects

Management Review

Metrics library

Keep track of the definitions and sources of all your critical business data upon which management relies to make informed decisions

Plant review meeting records

Organize attendees, notes, action items, metric reviews and more

Action items log

Centralized action items log allows for management to easily maintain visibility over progress

Quality Checks

Process Audits

Layered Process Audits (LPA)

Checklists, scheduling, etc

Compliance Audits
Safety Audits

Part Inspections

Variable or attribute characteristics
Inspection results reports

Problem Management

Customer complaints
Nonconformances

Disposition & containment

Quality alerts
Corrective actions

Supplier Corrective Actions
8Ds
5-Whys
PDCA
Implementation and Training
Setup and training fees may change depending on scope of the launch. Contact us for additional details.